City Connection Marketplace

Our City Connection Marketplace program is available to members to provide hands-on assistance in establishing new sister city, county, or state partnerships. We help dozens of cities start the partnership process from scratch and assist many more at various stages of their search.
Whether it's your first partnership or your tenth, Sister Cities International staff is available to assist and guide you through the process from researching potential partner cities, to crafting and signing and agreement.
---
Thanks to our connections to foreign Embassies in Washington, D.C. and relationships with U.S. Foreign Service Officers around the globe, Sister Cities International is uniquely positioned to help you get in touch with decision-makers abroad.
If you're interested in receiving assistance from Sister Cities International to find a sister city, please fill out the form below and email it to erika@sistercities.org.  
City Connection Marketplace Request Form
The list below indicates cities who have sent their community pairing surveys to us. If you are interested in connecting with one or more of these cities, please contact erika@sistercities.org to request a connection through our staff.
LIST OF CITIES SEEKING PARTNERSHIPS
US Cities                                                                                              Global Cities
Cameron, Missouri                                                                             Salaga, Ghana
Castle Rock, Colorado                                                                       Yilo Krobo, Ghana
Dana Point, California                                                                        Marracuene, Mozambique
Fuquay-Varina, North Carolina                                                         Wawa Prefecture, Togo
Greater Des Moines, Iowa                                                                 Masvingo, Zimbabwe
Lake Havasu, Arizona                                                                        Gwangju, South Korea
Harahan, Louisiana                                                                            Suwon, South Korea
Indian Wells, California                                                                      Lapio, Italy
Luverne, Minnesota                                                                            Rincon, Puerto Rico
Narragansett, Rhode Island                                                              Lenakel, Vanuatu
North Miami Beach, Florida                                                              Carolina del Principe, Venezuela
Opa Locka, Florida                                                                             Ginebra, Colombia
Palm Bay, Florida                                                                                La Macarena, Colombia
Point Pleasant Beach, New Jersey                                                  Pereria, Colombia
Port Jervis, New York                                                                        Chervonohrad, Ukraine
Prairie du Rocher, Illinois                                                                  Nyamassila, Togo
Roselle, Illinois
Sedona, Arizona
South Jacksonville, Illinois
Temecula, California
Terrell, Texas
Truckee, California
West Liberty, Iowa
Maui County, Hawaii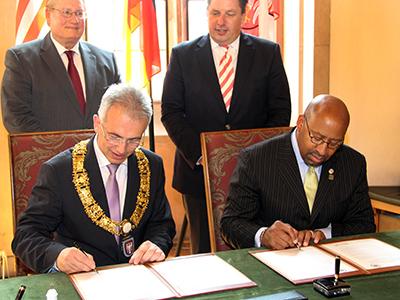 Concord might never have paired with Freeport, Bahamas had it not been for the assistance of the Cities Seeking Cities program. Concord Sister Cities Association is most grateful for the help and the guidance and will most certainly turn to SCI again when looking for another sister city in the future!
– John Dunlap, President of the Concord Sister Cities Association
---
Questions? Email us at info@sistercities.org.